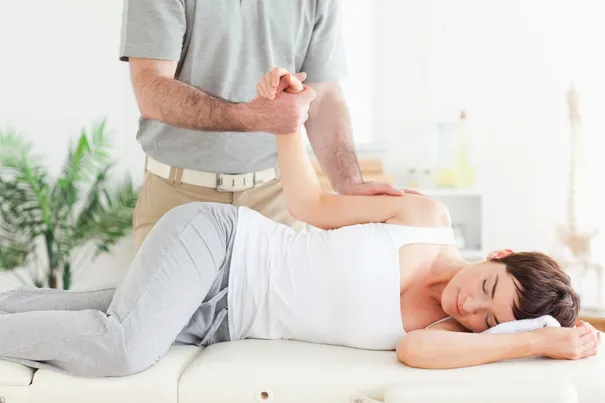 Located in the heart of Arlington, VA, Bowman Chiropractic Center has been the area's first choice for chiropractic adjustments since 2000. Dr. Robert Wainer has been alleviating pain, improving patients' quality of life, and enhancing athletic performance by combining manual adjustments and expertise spanning the entire wellness spectrum. Learn more about how we provide top-notch care through chiropractic adjustments below.

What to expect with chiropractic adjustments
Before any treatment begins, you'll spend time speaking with Dr. Wainer about your particular issue, medical history, lifestyle, and more. From there, we'll conduct a thorough assessment, palpating the spine, watching your movement, and manually checking any issues.
Once Dr. Wainer has determined the problem and the course of action, treatment will begin. Your chiropractic adjustments may involve other treatments, such as EMS, acupuncture, or light exercise to better prepare the body. Chiropractic adjustments themselves involve carefully manipulating the specific area (lower back, neck, shoulders, etc), positioning the body as needed, and then thrusting quickly and firmly to correct the joint. Many patients experience relief after the first session, but most issues require repeat adjustments. It's important to discuss a long-term treatment plan with your chiropractor based on your specific issue.
Common issues treated with chiropractic adjustments
Although this list is non-exhaustive, many of our patients in Arlington, VA, have found relief from the following:
Auto Injury

Headaches

Neck pain

Back Pain

Sciatica

Extremity pain

Sports-related injuries
If you've recently been in an accident or suffered a sports injury, our chiropractic adjustments may be able to help you recover without the need for surgery. Even without an injury, headaches, sciatica, and back pain are extremely common. Factors like lifestyle, age, activity levels, and more contribute to things falling out of place over time, adding too much strain to the spine. Chiropractic adjustments can return your posture to its rightful place, allowing you to move better and feel better during day-to-day activities.
Schedule your appointment for chiropractic adjustments today
Patients at Bowman Chiropractic Center receive only the finest quality care through the use of modern chiropractic adjustments and technology. Dr. Wainer and the rest of our staff have a genuine concern for your well-being, so join a team that will put you first by calling our Arlington, VA office at 703-528-2726.